If you want to launch a new product, service, or online business, let me introduce you to Jeff Walker and his coaching program: Product Launch Formula ® (PLF). PLF is an online course that provides a detailed, step-by-step training to launch a product or service online.
In this article, I will:
Review the Product Launch Formula course,
Explain the core teachings of this training, and
Assess the key information about PLF so you can decide whether this course is a good fit for you.
(UPDATED: August 31st, 2023)
Table of Contents (click to show/hide)
Let's begin with an overview of this coaching program:
| | |
| --- | --- |
| Product Name: | Product Launch Formula |
| Website: | ​productlaunchformula.com​​​ |
| Author: | Jeff Walker |
| Price: | $1,997 or 6 payments of $397 |
| PreLaunch Start: | August 17th 2023 |
| Release Date (Open Cart): | August 28th 2023 |
| Cart Close: | August 31st 2023 |
| Refund Period: | 14 days |
| Segment: | Business, Marketing, Sales |
| Support: | Highly Responsive |
| Recommended: | |
What is the Product Launch Formula, aka PLF?
The Product Launch Formula ® is the most in-depth step-by-step training to launch a product or service. The intent of this coaching program is to:
Review your current position, business-wise. (Whether you are in the early stages of generating ideas, already have an established business, or you are starting from scratch.)
Help you choose the most suitable launch type based on your business's current stage: seed launch, internal launch or JV launch
Help you develop or improve your product/service through the program, Product Creation Code, which is included in the course.
Teach you how to analyze your customer's persona, to understand better whom you sell to.
Teach effective marketing, sales and business strategies and how to implement them.
Coach you on the path to achieving a successful product launch.
Assist you in improving launch results by re-launching and integrating product launches as a standard business practice ("Living the Launch Life").
Launching a product involves many crucial elements, making it challenging to consider everything. PLF makes launching manageable, serving as the ultimate knowledge base for successful launches.
The PLF course includes 8 primary modules with actionable PDF guides and 48 videos that deliver 13 hours of training. The modules are then supplemented by an extra 65 hours of training that cover:
case studies for each specific launch type,
audits of pre-launch and sales videos so you can learn through example,
live brainstorming sessions that help you find the right lead magnet for your business,
implementing done-for-you email sequences,
creating sales letters and sales videos using templates,
coaching calls on various business topics and more.
Based on what the course cover, this is the most comprehensive launch training I have found on the market. If you want specific details about modules with pros/cons, read my in-depth review of the Product Launch Formula.
How Does The Formula Work?
The Product Launch Formula works by turning the marketing for your product or service into an event. The program teaches us how to leverage the Sideways Sales Letter™ and integrate three powerful components for a successful launch:
stories,
sequences and
mental triggers.
Jeff Walker also does the Launch Masterclass video series, where he goes deep into his concept and gives away much of his knowledge for FREE. If you think about launching, take 12-15 hours of your free time and watch the video series to understand it better.
The Launch Masterclass: FREE Workshop
The Launch Masterclass is a 4-video series that provide a deep understanding of product launches and introduce the PLF. Jeff Walker combines key elements of his teaching, like the Sideways Sales Letter, sequences, stories, and mental triggers, to pitch his $1997 PLF program in the fourth lesson of this workshop. This FREE training is a perfect "case study" example of a live launch.
---
If 15 hours long Launch masterclass is too extensive for you, I got your back. I summarized the core concepts taught in the PLF course, and explained the significance of use when launching your product.
Learn about the Sideways Sales Letter, the sequences, storytelling, Problem Solution Path, and targeting mental triggers:
The Sideways Sales Letter: What Is It & Why You Should Use It

The Sideways Sales Letter: What Is It & Why You Should Use It

The Sideways Sales Letter is a marketing approach developed by Jeff Walker that divides the traditional direct-response sales letter and delivers the content over several days – in sequences. The strategy involves storytelling and mental triggers to gain trust before the product launch.

Walker's strategy addresses a key issue with traditional direct marketing: people tend to jump to the price before considering the product's story. By presenting the sales content over time, potential customers engage with the narrative before seeing the offer.

The Sideways Sales Letter is further divided into the Pre-Launch and Open Cart sequences. The Pre-launch sequence usually spans 7-10 days and is split into three or more content pieces, which will tell the story of your upcoming offer. The Open Cart sequence starts when you offer your product or service for purchase.
Sequences: What Are And Why Should You Use Them When Launching?

Sequences: What Are And Why Should You Use Them When Launching?

In the context of product launches, sequences are a series of planned, interlinked content pieces designed to attract and maintain audience interest over a certain period. They serve as an effective tool for delivering information, creating suspense, and building customer relationships. Here's why they matter:

Attention-Grabbing: With the increasing noise in today's digital marketplace, standing out from the crowd can be tough. Sequences help you break through that noise and grab your audience's attention. They create anticipation and a sense of ongoing narrative that keeps your audience engaged and coming back for more.
Information Delivery: Sequences allow for more digestible and effective information delivery. Instead of bombarding your audience with a bulk of information all at once, sequences break it down into manageable chunks. This approach makes it easier for your audience to absorb and understand the value of your product.
Building Relationships: Sequences provide repeated touchpoints with your audience. Over time, this helps build relationships and trust. When the audience trusts you, they're more likely to consider your product when it finally launches.
Maintaining Interest: The periodic release of content in sequences maintains your audience's interest over a longer span. It keeps your product on their mind and builds anticipation for the launch.
Effective Storytelling: Sequences enable a storytelling approach to marketing, which is an effective way to connect with your audience on a deeper level.
Leveraging Psychology: Sequences allow you to use psychological triggers such as curiosity (through cliffhangers) and urgency (by revealing the product launch date). These can motivate your audience to take action.

To sum up, using sequences, you can build trust and relationships with potential customers before asking for a sale.

Which sequences does the PLF course cover and what is their role?

Sequences build the PLF and the Sideways Sales Letter. While the Pre-launch and Open Cart sequences may be most familiar, there are others within the formula, each serving a unique role:

Pre-Pre-Launch: Warms up the audience.
Pre-Launch: Builds relationships and prepares people for the upcoming offer.
Open Cart: Sells the product or service.
Post Launch: Nurtures new customers and those who didn't buy, preparing them for the next launch.
JV Launch: Excites affiliates for the upcoming promotion if doing a Joint Venture launch.
Use Storytelling To Sell Efficiently: Why, How and What To Express

Use Storytelling To Sell Efficiently: Why, How and What To Express

Storytelling is a marketing tactic for expressing a brand's message through engaging stories.

Like the old direct-response approach, you should use storytelling to sell efficiently. This way, the audience gets the point and actively imagines what you, as a storyteller, describe. At the same time, you wake up their emotions so they become engaged and thus remember the story messages.

A key distinction in Jeff Walker's PLF is that marketing stories are delivered in sequences. This approach ensures your message resonates with the audience over time, preparing them for the next phase. Jeff suggests using a "cliffhanger effect" at the end of a content piece, compelling the audience to follow the story in the next content piece.

Below is a quick overview of what each content piece should express to make a sale in the final phase – Open Cart:

Prelaunch Content Piece (PLC) #1: Theme – The Opportunity. Show potential clients how their lives could transform.
PLC #2: Theme – The Transformation. Demonstrate how this transformation could manifest in their lives, usually through case studies.
PLC #3: Theme – The Ownership Experience. Ensure potential clients feel a sense of ownership over the proposed change.
Open Cart Sequence: Theme – The Enrollment. The focus here is on getting potential clients to commit to that change.
Use Problem Solution Path (P.S. Path) In The Pre-launch Content

Use Problem Solution Path (P.S. Path) In The Pre-launch Content

The Problem Solution Path (P.S. Path) is a strategy for structuring your pre-launch content to guide your audience towards a purchase naturally. It can skyrocket the success of your product launch.

Instead of the traditional Problem-Agitate-Solve (P.A.S.) approach used in old-school sales letters, the P.S. Path takes a more friendly route. It's a less pushy method that still effectively leads to sales. Here's how it works:

You start with your first pre-launch content, typically a video, where you identify a problem that your audience is facing and immediately provide a solution. By doing so, you're offering significant value to your viewers and stirring up specific mental triggers.

At the end of this first content piece, you hint at another problem but wait to solve it. This "cliffhanger" technique fuels anticipation, compelling viewers to return for the following content piece to find the solution.
The second content piece then revisits the unsolved problem from the first video, and you provide the solution. Yet, this solution subtly introduces another problem.
This pattern repeats throughout your pre-launch sequence until the final "Open Cart" video, where you present your product as the ultimate solution to all the problems you've discussed. By this point, if you've provided much value and established authority, you should see a wave of sales coming your way.

To summarize, P.S. Path goes like this: problem > solution > problem.
Target Mental Triggers

Target Mental Triggers

"Mental triggers" refer to the psychological impacts that affect our decision-making process. In PLF, Jeff Walker frequently targets these triggers to optimize audience response.

Below are the mental triggers Jeff focuses on, along with their effects and the stages of the launch sequence they're best applied in:

Stories: Telling compelling stories grabs people's attention and makes users more likely to be influenced by the marketing message embedded within. This strategy should be used throughout all stages of the launch sequence.
Authority: By sharing valuable knowledge and creating positive changes in people's lives before asking for a sale, you establish yourself as an authoritative figure. Being perceived as an authority makes your audience more likely to pay attention to you. This technique is most effective during the pre-launch stage.
Anticipation: Creating anticipation by hinting at exciting future content or leaving narratives unfinished draws people in. This method attracts attention and promotes eagerness for upcoming content or events. You should trigger anticipation during the pre-pre-launch, pre-launch, and open cart stages.
Reciprocity: Offering real value to your audience develops a sense of obligation to give back to you. You should build reciprocity during the pre-launch stage.
Social proof: Including case studies or testimonials from successful individuals in your content encourages others to follow suit. Seeing others succeed or endorse a product or service makes it more appealing. This strategy works well during the pre-prelaunch, pre-launch, and open cart stages.
Community: Encouraging audience interaction and comments fosters a community around the product. The human need for social connection makes people feel secure and motivated. This approach is effective during the pre-launch stage.
Scarcity: Limiting product availability or making an offer time-sensitive increases its desirability due to the principle of scarcity. The idea of limited availability makes a product more appealing. Scarcity is most effective during the open cart stage.
If you plan to launch, learn about the Product Launch Blueprint and the key steps to launch successfully. You can also see the below video for a condensed, illustrated explanation of PLF and the concepts taught in:
What's included in the course? – Overview
The PLF includes all things listed below:
The Product Launch Formula program, including eight complete modules, guides you through creating your first launch and then growing your launches from there.
The interactive Launch Path feature: your direct shortcut to the most relevant for-you content.
Action guides, Email swipe copy, a targeted timeline, and checklists to help keep you on track, module by module.
Complete launch videos and scripts from launches in various markets, with full breakdowns by Jeff himself.
Transcripts and audio-only files of all the training videos – perfect if you're like me and like to read more or listen while driving.
Additional training on going beyond just launches and building your entire business with your launches (The #launchlife or Business Launch Formula).
Follow-up coaching calls with Jeff's Platinum coaches for a whole year.

You will be able to hear your fellow PLF students' questions and answers — always helpful for your own business. You also get the recordings of all the coaching calls, so you can listen to them again (or catch up if you have to miss one).

The Facebook PLF Owners Alumni group – there's pure gold in this group, where you can tap into the community.
Jeff's $5,970.00 bonus:
The Launching Your List – This stand-alone course will teach you how to grow an email list of people hungry for what you offer.
Product Creation Code – This course shows you how to create an offer that people will line up to pay you for, whether it's an online program, membership, coaching program, or physical product.
The full Case Study & Launch Examples library — If you love to learn by example, this bonus is pure gold.
Jeff's $7 million Launch Sample File – is a copy from his $7 million in launches, plus an additional copy from some of our PLF Owners' launches. You can use this "sample copy" as a starting point for your launch.
+ 5 other valued bonuses, including the "Advanced Launch Multipliers" training, Your Tech Stack Quick Start, The Launch partnership, and many others
What Are The 8 Core Modules About? Overview
You can read the summary of each module in the list below:
Module 1: Preparing to Launch – In this first module, Jeff will teach you about the core strategies and tactics, which can be applied to all types of launches. This module is the heart of the PLF.
Module 2: Seed Launch – These lessons are about taking an idea for a product and getting paid to create that product, working closely with your audience.
Module 3: Internal Launch – Learn how to launch your product to your own list. You want to do this once you've created your product (ideally, one you've created using a Seed Launch).
Module 4: Pre-Pre-Launch – This module is about the preparation period before selling your product. It will help if you focus on hard work in creating an email mailing list of the right people for your brand.
Module 5: Pre-Launch – You start to creating your launch story based on what you learn in early modules. Finally, you will dig into a problem-solution path, which is crucial for successful marketing.
Module 6: Open Cart – In this module, you'll have a guide on every step to make the open cart as smooth sailing as possible, from creating your Open Cart email sequence to the copy of your offer. In addition, Jeff will analyze sales videos from his students, and you will learn what's right and wrong in each of these videos.
Module 7: Joint Venture Launches – You will review the sales videos and learn a lot from actual examples. Jeff teach how to scale your launch with affiliate partners in this module.
Module 8: Launch Life – This module is a roadmap for building your business with launches.
I cover details and explain the modules, methods, and bonuses offered in my course review. I also examine the pros and cons that help you decide if you are still considering this program. Click here to read my PLF Review (Updated in 2023)!
Will this PLF program suit you?
The PLF will fit you if you fall into one of the categories of people described below:
You've got an existing business that you're looking to build.
You might be some practitioner or coach. You're helping people with money, health, success, relationships, a hobby, a sport, or something else. The PLF might be perfect if you're working with people one-on-one and feel it's time to start getting some leverage. It's time to start getting products out there, so you can make more money without working more hours.
You're an author or soon-to-be author, or you're an artist. Whether you have a book or you're creating something about art. The reality is that the only person who will market your book or artwork is you. The best way to get it out there is with a launch.
The fourth category is you're starting from scratch. You don't have a list, you don't have a product, you don't have a business, and maybe you don't even have an idea for a business yet, and you need to know where to start.
There might be another option that you want to help other folks with this launch process. You want to partner with other people and help them launch their products.
If you have a good product, a reasonable offer, work the system, and continue to improve, then you can build a great business using the PLF.
Who is the PLF NOT for?
The PLF is probably not for you if your goal is to "get rich quick" without putting in any work.
Are There Any Student Success Examples?
The PLF has made many success stories, as it's the go-to course for many entrepreneurs. The success of Jeff Walker's students has been enormous, and some were willing to shoot testimonial videos. While Jeff covered their success stories in his launch workshop, you can watch some if you click on the image below: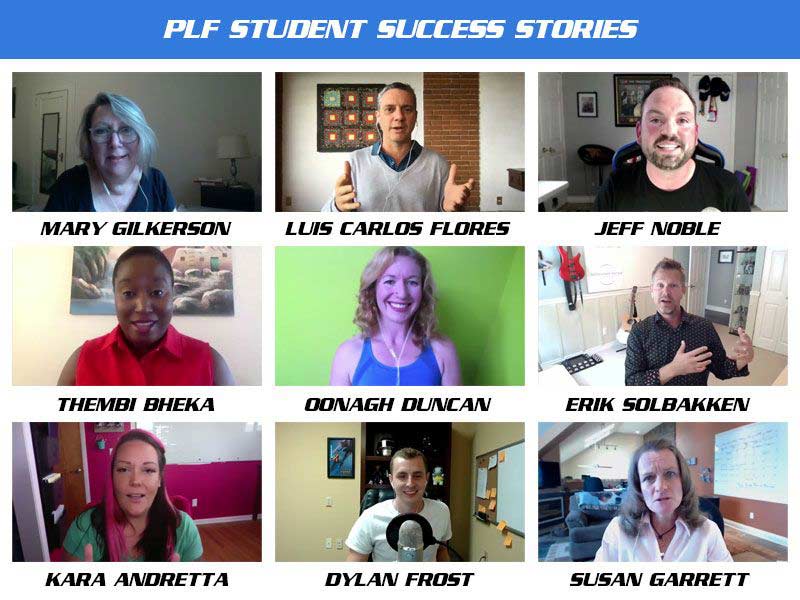 One of Jeff's students told us how she used this formula to go from zero to $100.000 with PLF. You can watch the full video below:
Who is Jeff Walker?
Jeff Walker is the guy who has been teaching this product launch workshop every year since 2005, and he's had almost 1 million people go through his training in that time. And they've launched all kinds of products, services, courses, books, and even entire businesses in nearly every market, niche, and corner of the world.
If you're not familiar with Jeff or his work, he created the Product Launch Formula, and I can pretty much guarantee that if you don't know him, you've at least seen some of his clients using the formula, even if you didn't realize it at that time.
And that's not all… If you are seriously thinking about jumping on-board, wait until you see
My Irresistible $9,497+ PLF Bonus
Let me explain. I've been promoting Jeff Walker's PLF for years, and there are no secrets. For everyone who enrolls in the course, I'm getting a small referral fee (at no extra cost to you), which helps me run this website and provide for my family.
More importantly, from what I saw when I was jumping on board and from what I heard from people who signed up under me, there's not been a bad word about this course. I'm so confident about Jeff Walker's PLF that I decided to offer my ULTIMATE $3,527+ Product Launch Formula BONUS on top of that, which will make a complete offer a NO-BRAINER!
I'll have to limit it to the first ten people who join PLF through my website, so hurry up! (I'll update this count regularly through the launch).
… 7 5 3 BONUSES Left
Bonus #1: Thrive Themes collection (value: $47/month)
Bonus #2: 60 days FREE hosting (value: $100)
Bonus #3: The Perfect Online Classroom bundle (value: $1,497+)
Bonus #4: Email automation software (value: $200+)
Bonus #5: SEO, Traffic & Tech-stack consultation – 3 hours (value: $450)
Bonus #6: IN-House Knowledge Base (value: $997+)
In the past few years, I've been helping a few of my clients with their product launches, so I know which tools you need to do it properly and cost-effectively. You can ask me anything as part of my PLF bonus offer.
This OFFER is a tough one, so I decided to limit it to 10 customers. If you don't act, I'm sure your competitor will… Act fast and secure your access!
+
Jeff Walker's $5,970.00 BONUS
BONUS #1: Jeff Walker's complete "Launching Your List 2.0" video training course
BONUS #2: the full-blown Product Creation Code video training course
BONUS #3: The full Case Study & Launch Examples Library
+5 OTHER VALUED BONUSES: including the "Live Launch" training, Your Tech Stack Quick Start, The Launch partnership and many others…
What Others Say About Jerry Kriznar And His Amazing "No-Where Else Seen" PLF Bonus?
KEITH JONES
Executive Learning Expert // alchemyww.com
The bonus material that he offered is well researched, clear, concise and extremely helpful!
Myself and my business partner were extremely keen to begin our online business with the PLF formula by Jeff Walker. Although we had registered our interest we were deeply disappointed when we received an email confirming that the registration had closed the 2018 and that we would have to wait until 2018 to begin the process.
And then we found Jerry Kriznar and his last minute offering of entry into the PLF process.
He was absolutely true to his word. Not only did we gain access to the materials to begin development of our online business, the PLF formula, but the bonus material that he offered was well researched, clear, concise and extremely helpful!
We would thoroughly recommend him to you.
Truly, I hope all affiliates are as honest and as helpful as you.
Thanks Jerry for the quality bonuses, especially the free mini i-pad. I'm a newbie just wanting to make a difference in the world and I appreciate your customer service and honesty.
Dr. WAVERLY CHIN
Diagnostic MyoTherapy Practitioner // drchin.com
NIGEL MOORE
MSP & IT Support Business Owner & Consultant // nigel.me
I'm so glad that I purchased the course via your website!
Thank you for keeping the word, and sending my Product Launch Formula bonus – just confirming I have now received it. I'm so glad that I purchased the course via your website!
Value: 10/10
Delivery: 10/10
I appreciate your quick response!!! Thank you.
I just got the last part of your awesome bonus!!!! Keep up the good work and thanks again for your tips on SEO strategy!
AMBER MILLER
Founder of Smart to Finish Office Solutions, LLC // smarttofinish.com
THORSTEN LAABS
Managing director of Mdk GmbH // mdk.digital
Super fast, very personal – which stands out compared to so many other standard support answers – helpful and thus way beyond expectation!
The bonus material came as promised when I signed up and it will take me some time to go through all the valuable material you shared. So, thanks a lot for that! I am looking forward to being a more active part of the PLF community this year.
How to qualify for the ultimate PLF bonus?
Forward me your receipt on: bonus@productlaunchclass.com with Subject line: "PLF".
I will get back to you within 24 hours with further instructions.
Note: All the bonuses become available after the refund period is over (14 days). If you will take the 6 installments plan, this means after you pay for the complete PLF training.
Are there any risks in purchasing the course?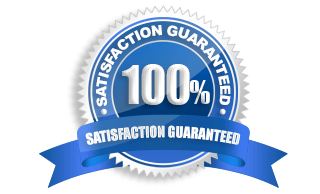 100% Satisfaction Guaranteed
This course comes with a 14-day, full money-back guarantee. That is, if you are unsatisfied at any time during the next 2 weeks, return it for a full refund of every penny you paid (including shipping and handling)… no questions, no hassles.
To recap, you get over $9,497 in bonuses when you invest in Jeff's Product Launch Formula today…